2017 Jaguar F-PACE vs. 2017 Porsche Macan
Jaguar F-PACE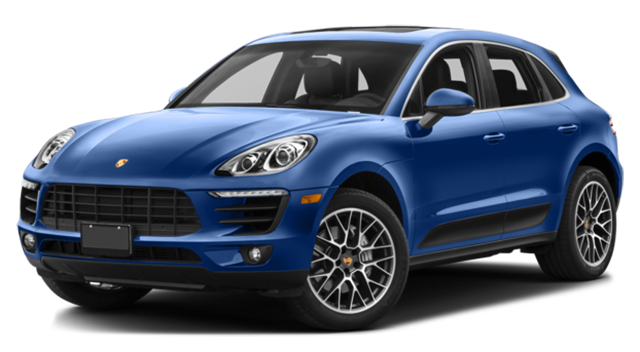 Porsche Macan
If you're shopping for a quality luxury crossover SUV, you've doubtless considered the 2017 Jaguar F-PACE and the 2017 Porsche Macan. Both offer powerful engines and the cargo and towing capacity Wayne and Newtown Square, PA want in a midsize SUV, as well as styling points that are hard to resist. These similarities can make choosing between the two difficult. To help with any confusion, the experts at Jaguar of West Chester have created a brief comparison of the two vehicles, focusing on the most relevant specifications. Look it over, and when you're satisfied, come to Jaguar of West Chester to test-drive the dynamic F-PACE and see what you've been missing.
What Kind of Performance Do You Crave?
Both the Jaguar and the Porsche offer drivers several potent engines to choose from, but the specifications can vary greatly between them:
2017 Jaguar F-PACE: Jaguar drivers can choose between the 4-cylinder diesel engine that returns 318 lb.-ft. of peak torque, or two versions of the 3.0L supercharged V6 powerplant which can generate up to 380 hp.
2017 Porsche Macan: The Porsche Macan doesn't offer a diesel option, and its gasoline-powered 2.0L turbocharge 4-cylinder engine can only muster 273 lb.-ft. of peak torque. The Macan's 3.0L V6 powerplant produces just 340 hp, far short of the Jaguar brand's top V6.
Which Offers the Greater Fuel Economy?
With the increasing cost of fuel and the effect of high vehicle emissions on the environment, fuel efficiency is more important now than ever. One crossover clearly understands that:
2017 Jaguar F-PACE: The F-PACE is a leader in crossover fuel efficiency with a robust diesel engine that gives drivers an EPA-estimated 26 mpg/city and 33 mpg/highway fuel efficiency, while the V6 powerplant offers 18 mpg/city and 23 mpg/highway.
2017 Porsche Macan: The Porsche 4-cylinder powerplant offered only 20 mpg/city and 25 mpg/highway fuel efficiency in government testing, while the 3.0L V6 was able to manage only 18 mpg/city and 23 mpg/highway economy.
What Practical Features Matter to You?
Most drivers want an SUV that is fun and efficient to drive but also provides practical features like space for gear and the power to move it. One of these crossovers does that better than the other:
2017 Jaguar F-PACE: The Jaguar F-PACE offers drivers seating for five with 33.5 cubic feet of cargo capacity behind the rear seats and as much as 5,290 pounds of towing capacity – plenty of space and power to manage whatever gear it needs to haul. And, with a base price of only $41,900 it's also an impressive overall luxury value.
2017 Porsche Macan: The Porsche also offers seating for five, but the tiny 17.7 cubic feet of rear cargo space and 4,409 pounds of towing capacity make it difficult to bring along the gear drivers need. And, with a base price of $47,500, the Macan demands more while delivering less.
Experience the Superior Design of the 2017 Jaguar F-PACE on Your Wayne and Newtown Square, PA Test-drive
The 2017 Jaguar F-PACE delivers the power and performance Wayne and Newtown Square, PA luxury car buyers demand. Contact Jaguar of West Chester at (800) 446-8180 or visit us at 1568 West Chester Pike in West Chester, PA.