Sporty and Dynamic Jaguar Performance Features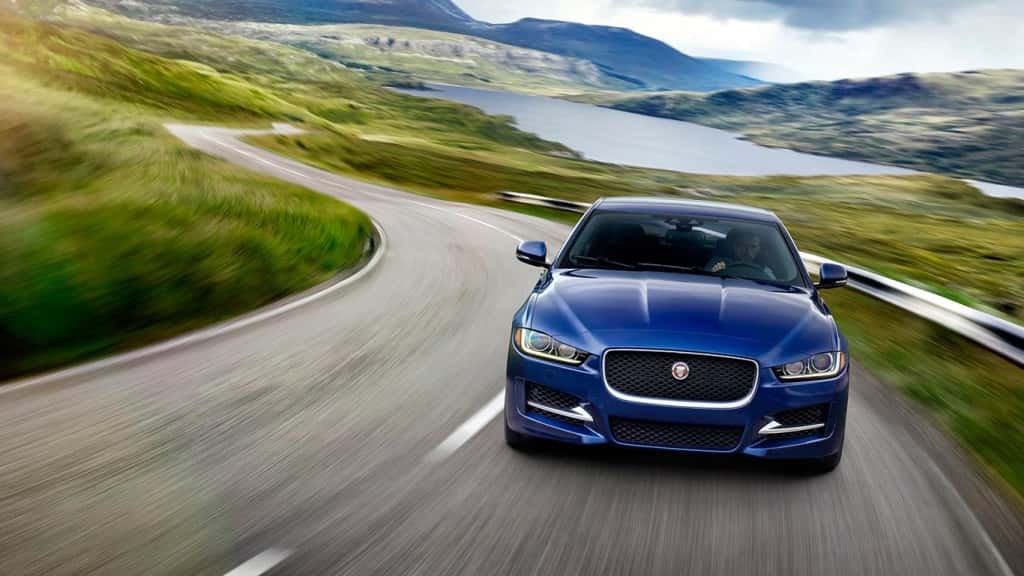 There's no question that the lineup of luxury vehicles from Jaguar has been engineered to perform at the highest levels of dynamism and sportiness possible. Between instinctive all-wheel drive, Torque Vectoring by Braking, Adaptive Dynamics, and All Surface Progress Control (ASPC), the various Jaguar performance features provide you with ultimate control and tight handling. Find out what you can expect when you hit the road behind the wheel of a new Jaguar model from Jaguar West Chester.
Instinctive All-Wheel Drive System
As of 2016, the Jaguar F-TYPE has had the Instinctive All-Wheel Drive System installed. This system promises optimum traction, and it is intuitive, too, as it has a sense of the road conditions ahead and responds accordingly by applying power to any wheel on either axle. What's more, this system propels the F-TYPE to 60 mph in less than 5 seconds.
Torque Vectoring by Braking
Take on tight corners behind the wheel of the newest Jaguar XE, which boasts Torque Vectoring by Braking. This system delivers controlled independent braking on the front and rear wheels, which in turn boosts your confidence on the road and makes your vehicle as agile as any high-performing sports car out there.
Adaptive Dynamics
For a smooth ride every time, you'll love Adaptive Dynamics on Jaguar models. It acts as an electronic damping system, with sensors that monitor bumps in the road and controls resistance. This helps when the road ahead twists and turns, or if the pavement is a bit rocky.
All Surface Progress Control
In addition to Instinctive All-Wheel Drive, All Surface Progress Control make slippery conditions even more manageable, boosting performance capabilities even further. It has low-speed cruise control to handle situations when there's little traction, so that you can concentrate your attention on steering and getting where you need to be.
Learn More About Jaguar Performance Features at Jaguar West Chester
Get in touch with Jaguar West Chester if you'd like to learn more about the latest lineup of Jaguar luxury vehicles and how they'll for you perform once you're behind the wheel. With the new Jaguar XJ, Jaguar XF, Jaguar F-PACE, and more, you'll have plenty of models from which to choose.