An In-Depth Look at the Jaguar InControl System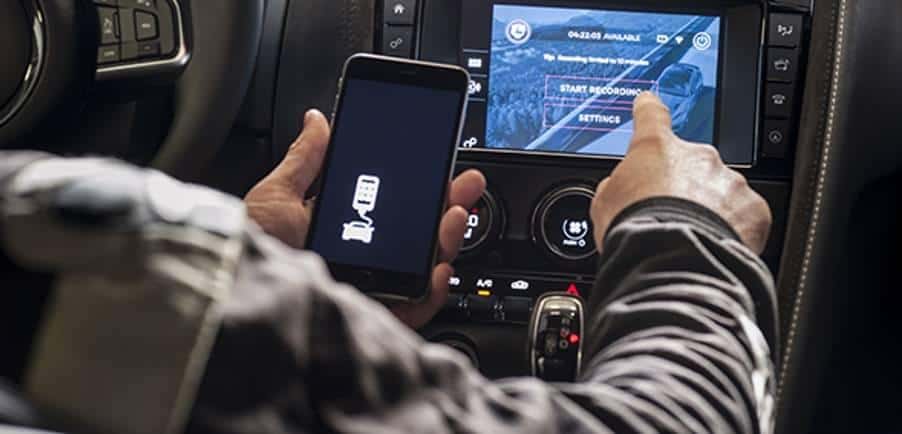 Driving a Jaguar is now an experience like no other, thanks to the Jaguar InControl system. This suite of services and applications ensures that you're entertained, connected, informed, and protected, so that hitting the road in Newtown Square doesn't mean you're left in the dark. In fact, it's a more enjoyable experience than ever, so take an in-depth look at the Jaguar InControl system now to understand what's in store when you make your Jaguar purchase at Jaguar West Chester.
Infotainment
Most drivers choose the InControl system for its entertainment capabilities. With InControl Touch™ and TouchPro™, you will receive an 8- or 10-inch touchscreen that allows you to find the entertainment you want with the push of a button. From making phone calls, to accessing navigation, to hearing the music or information you need, the InControl system gives you access to all that you could want, and then some. In addition, select models like the Jaguar I-PACE add Apple CarPlay and Android Auto capability to further connect your smartphone and your car.
Between placing and receiving calls, accessing media, and taking advantage of navigation and climate control, you're set to be informed and entertained at all times with the Jaguar InControl system. There are two versions:
Jaguar InControl Touch Pro: This multimedia system boasts a multi-touch screen with customizable home screen settings, along with natural voice control to make commands.
Jaguar InControl Touch: This is the standard multimedia system on new Jaguar models, incorporating an 8-inch touchscreen with a navigation system projecting 2D and 3D maps. You can enjoy phone connectivity, climate controls, entertainment, and vehicle controls.
Connectivity
Face it. You don't want to be away from the world around you, and the Jaguar InControl system won't let you, especially if you have InControl Apps™. This feature allows you to access your favorite applications right from the touchscreen of your vehicle. From finding nearby parking, to looking for hotels, to accessing your favorite audio books, the InControl Apps feature lets you do it all. In addition, you'll have access to connected navigation via Jaguar InControl Touch Pro, so you can always find the best route to your final destination. Finally, the InControl Wi-FI™ ensures you and your devices have access to the world around you, so you don't have to miss anything while you're on the go. That's not to mention smartphone app integration with Jaguar InControl apps, providing access to your contacts, calendar, and more.
Stolen Vehicle Locator
Jaguar wants to keep all Wayne, PA drivers safe as well, and the InControl Protect™ features do just that. Through InControl Protect, you can contact roadside assistance or first responders no matter where you are or what time it may be. There's even a Stolen Vehicle Locator, so emergency personnel can help you find your vehicle using GPS tracking technology.
Jaguar InControl Remote & Protect
With various functions to enhance your car ownership experience, Jaguar InControl Remote & Protect helps you out. You can monitor how much gas you have left, locate your vehicle when you can't remember where you parked, track your journeys, access vehicle diagnostics, and assess your car from afar to ensure all doors are locked and windows closed. Also included are roadside assistance connections and SOS Emergency Call in the event of a collision, so that the proper authorities are notified.
Learn More About the Jaguar InControl System
If you'd like to learn more about what's in store when you purchase a Jaguar equipped with the Jaguar InControl system, then contact Jaguar West Chester . Our team will show you how every feature works, and we always promise the Jaguar West Chester Advantage at our dealership!