Jaguar XE SV Project 8 – Meet the Most Extreme Performance Jaguar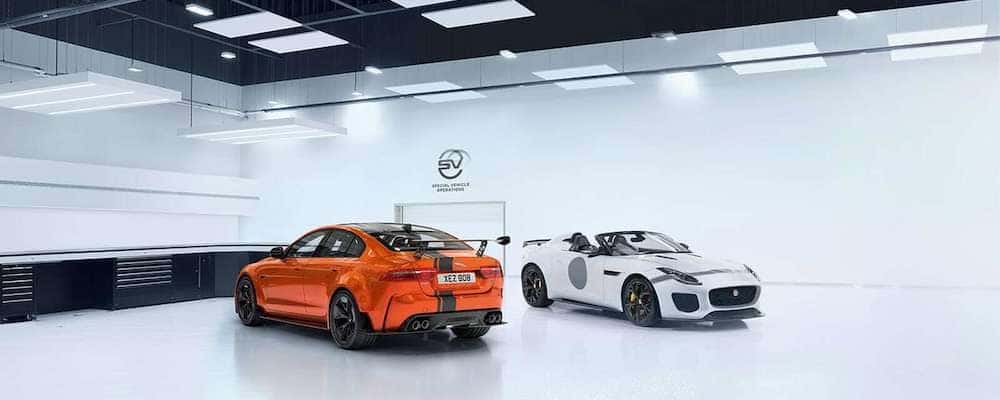 Called the "Most Extreme Performance Jaguar Vehicle Ever", the 2019 Jaguar XE SV Project 8 Edition is an achievement in engineering and design, having been hand-assembled at the Special Vehicle Operations Technical Center at the Jaguar headquarters in England. Learn more about the performance specs, features, and the Jaguar XE SV Project 8 price below. There will only be 300 vehicles produced worldwide, so be sure to jump on the opportunity to test drive and even take this model home from Jaguar West Chester near Newtown Square and Aston.
Jaguar XE SV Project 8 Engine
With a supercharged 5.0-liter V8 engine that delivers 596 horsepower, this is the most powerful street-legal Jaguar in history. Additional performance features help keep up with the roaring engine for a thrilling driving experience.
Suspension — The motorsport-derived suspension and ball-jointed damper mounts offer a better response.
Modified all-wheel drive system — while the handling is rear-drive-based like a supercar, the Intelligent Driveline Dynamics makes it more advanced. The computer-controlled drive setup has an electronic active rear differential, and there's even a specialized version of Adaptive Dynamics with the new Track Mode.
Two ride heights — Choose from a lower ride height for the track and a higher ride height for street driving.
Big brakes — This model has the largest and most advanced Jaguar brakes ever, with 400mm carbon ceramic discs and 6 piston calipers up front, yet unique design saves about 40 pounds in weight.
Jaguar XE SV Project 8 Design
Light as a feather —  Lightweight aluminum architecture pioneered by Jaguar and carbon fiber elements (including hood, bumpers, fenders, side skirts, front splitter, and rear spoiler) mean less weight, better fuel economy, and most importantly and faster speeds. The wheels are also made out of a lighter forged alloy, and the front seats have lightweight magnesium frames.
Aerodynamic design — There is an adjustable deep front splitter, rear diffuser, and a large rear spoiler. The spoiler's angle can be adjusted to reduce drag or increase downforce. At 186 mph, you can get up to 268 pounds of downforce.
Performance seats — Both the front and rear seats are upholstered in Ebony leather with Oyster contrast stitching and the magnesium-framed front seats have sport bolsters for more support around corners and curves.
Specialized wheels and tires — The forged alloy wheels are lighter and stronger than traditional wheels which are made of cast alloy. Carbon inserts between the spokes reduce drag, and the tires are specially-designed Michelin Sport Cup 2 tires that are excellent whether you are on the track or on Aston roads.
Record-Breaking Performance
At the Nürburgring Nordschleife proving track in Germany, which has been used to test the limits of vehicle performance since the 1920's, the Jaguar XE SV Project 8 broke several brand records and historic records when it completed the lap in 7 minutes 21.23 seconds in 2017, and then broke its own record in 2019 with a time of 7 minutes 18.3 seconds. This 2019 event was historic for several reasons:
It was the fastest lap ever for a Jaguar on this track.
It was faster than any four-door production-intent sedan in history
It was faster than many renowned supercars from brands like Maserati, Lamborghini, Mercedes-AMG, Ferrari, and more
Experience History at Jaguar West Chester
The Jaguar XE SV Project 8 price at Jaguar West Chester is at $203,495 MSRP. Want to test drive this stunning model in the Chester Springs area, or learn more about Jaguar financing options? Contact your local authorized Jaguar West Chester retailer today, or learn more below about what the classic Jaguar XE can do!
More About Jaguar XE Features
Called the "Most Extreme Performance Jaguar Vehicle Ever", the 2019 Jaguar XE SV Project 8 Edition is an achievement in engineering and design, having been hand-assembled at the Special Vehicle Operations Technical Center at the Jaguar headquarters in England. Learn more about the performance specs, features, and the Jaguar XE SV Project 8 price below….

For Chester Springs drivers who want a performance-focused luxury sedan that still offers a good mpg rating, consider the 2019 Jaguar XE that delivers up to 32/42 city/highway mpg. Explore Jaguar XE mpg in more detail at Jaguar West Chester, then contact us for a test drive to experience it in person! Contact Us 2020 XE MPG What…

The 2019 Jaguar XE is a luxury sports sedan with an affordable base price starting at $36,995 MSRP. The Jaguar XE design is efficient and comfortable, which makes driving in Chester Springs enjoyable. The interior has high-tech features to keep passengers comfortable while the advanced technology keeps you connected. 2020 XE InteriorView Inventory Step Inside the…
Learn More at Jaguar West Chester
How fast is the Jaguar F-TYPE R? The luxurious 2022 Jaguar F-TYPE R can go from 0-60 mph in 3.5 seconds, making it an excellent vehicle for performance enthusiasts in the West Chester area. After getting behind the driver's seat for a test drive, you won't want to drive any other sports car on the…

Luxury. Power. Sophistication. It's almost unfair that one automobile should possess so much of all three. And yet, the all-electric I-PACE continues to impress with the 2022 model year. Any new Jaguar I-PACE model would enliven your driveway, so what exactly makes the I-PACE HSE configuration so impressive? Learn more about the offerings of…

The thrilling 2021 Jaguar F-PACE has received lots of praise from industry experts and consumers alike for its sporty exterior and race-inspired performance, but the Jaguar F-PACE seating capacity, dimensions, interior colors, and features are also receiving high praise. West Chester car shoppers can expect nothing less from this luxury automotive brand, and we have…